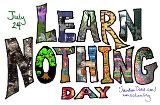 Happy Learn Nothing Day!
Well we learned a lot on this learn nothing day, darn it. And we really wanted to observe this wonderful holiday in all it's glory (smile).
So let's see... what did we do today:
The day started with us deciding to go to the library. Skylar picked out a horde of Nancy Drew books, The Diary of Anne Frank and a book about a princess, of what the name escapes me. Summer, who is not a fan of books, decided she wanted to get a Magic Treehouse book she hasn't read before.
We talked a bit about Amelia Earhart as we thumbed through some biographies and the kids learned today was her birthday. We also talked about Joan of Arc as we saw her face on a few books. While at the library we looked at the art gallery they have there.
Afterward I wanted to go to Gamestop. I was looking for something specific that they didn't have and ended up picking up Big game hunter and a Lego Harry Potter game for really cheap.
Since we were in the same shopping center, we decided to hit Petco and see if the sweet little bunny that we love was still there up for adoption. And yes sadly he was. So we talked to him for a while. We noticed they had some ferrets up for adoption too and we watched them a bit to see if they'd wake up so we could get a better look at them. They did not. Then we went over and watched the baby ferrets play, oh I was so tempted....but we are waiting until we buy a house so we can make a ferret friendly bedroom for Skylar so they can have free run verses living in a cage. While we were there we talked to the assistant manager about the ferrets that were up for adoption and why they had been given up. Then one of the sales associates was so sweet and came over to us and was talking to us and telling the kids about all the animals she has at home. She told us the set up for her ferrets she uses, giving them free run of her downstairs that has all tile flooring.
Then the kids grabbed some animal info sheets and while we were standing there looking at hamsters Skylar was reading about some of the small animals they were selling.
In our travels in the car we talked about all sorts of things today. Seashells, oil, birds, batman (we watched one of the batman movies last night).
After the pet store we went and got Smoothies and headed on home.
Once home, Decklin and I wanted to try out our new "used" games. The Harry Potter game started out so fun. But it froze and wouldn't work any longer, so that would have to go back. Then we played Big Game Hunter. I can't stand hunting at all, but Decklin loves to pretend shoot so this was a game right up his alley. I told him while we were playing that I felt bad hitting the animals. He said "Oh Mom, they are just computer animals, no one is being hurt, we are playing a pretend game." He is so smart. : )
We both kinda stunk in the competition but it was still a fun game.
I exercised using my Wii Walk it Out game, while the kids played for a bit in the loft above me. Then we decided to go for sushi for dinner and to take the broken game back afterward.
Dinner was fun. They got to try Miso soup, some liked it, some didn't. Most everyone except Summer enjoyed their sushi. She said she liked the Trader Joes sushi better.
Afterward we took the game back and then stopped to see Bry as he was finishing up a call on duty. We always like to see him when we are out and about if we can.
So now that we are at home, everyone just wants to relax. The older girls are reading. Ember is sleeping on the couch. And Decklin is watching Netflix on his kindle fire.
I'm off to find a text message app for the kindle fire and to order us a replacement Harry Potter game.
Hope everyone had a great Learn Nothing Day!